News
December 2012 - CSTAR enters a new phase:
Following the UCD Academic Council meeting on the 06th of December 2012 CSTAR is now an officially recognised UCD Education and Research Centre.
August 2012 - CSTAR Board and International Advisory Group Meeting:
A Board and International Advisory Group Meeting was held on Wednesday, 22nd of August 2012.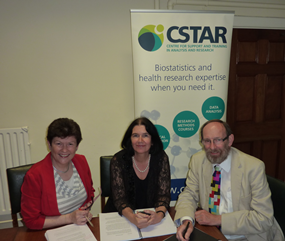 Pictured (L-R): Dr Mary Codd, Professor Cecily Kelleher, Professor Leslie Daly
NILVAD Clinical Trials:
CSTAR is part of the successful consortium that has been awarded funding of €6 million by the European Commission for clinical trials for a new Alzheimer's disease treatment. Please see NILVAD clinical trials press release for further details.
Booking is now open for the next CSTAR Course in Statistics with SPSS in May 2018.
29th May, 2018 Statistics with SPSS: Managing your Data
30th May, 2018 Statistics with SPSS: An Introduction to Data Analysis
31st May 2018 Statistics with SPSS: Linear and Logistic Regression
Costs: 1 day €250, 2 days €450 and 3 days €600
Book your place: